Reverend John Branson's Weekly Encouragement for August 11, 2020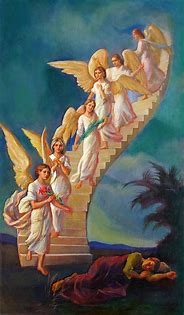 We have begun weaving poetry into Sunday worship at Emmanuel. We do so in the hope that, like scripture, these words and the silences in-between the words startle us into a fresh awareness of the Holy Spirit, the world and ourselves. Jacob (whose story we have been reading these past few weeks), "sees" in his dream a ladder upon which God's angels ascend and descend, conveying the Word and will of God. God is in this place and I did not know it". As the ladder, or the angels ascending and descending inspired Jacob, poetry connects us to our deeper selves, awakening in us new dimensions of meaning (such as God) we did not at first see or believe.
It has been said that this time of COVID, (time-out-of time) invites/awakens in us new awareness. We choose how best to use this time, how best to work with our disappointment and frustration. We can easily turn to "doom-scrolling"—reveling in the negative, the awful, and the nay-saying. Or, we can seek flashes of inspiration in the dark, hope in despair, wonder in confusion.
Attending "virtual" church is quite frustrating and disappointing to many. It is not what we are used to. It requires more imagination, holding at bay our disappointment since we cannot receive the Sacrament of the body and blood (bread and wine) in the way to which we were accustomed nor see and touch one another as family, friends, and strangers in community.
One might wonder where the "ladder" and the "angels" might be seen and heard in this new time? What might be opening up to us at Emmanuel that we have never before seen and known? Praise be for imagination, technology, dreamers, inspiration and more. May you be surprised, awakened by God in unexpected ways.
John
---