Settling Down for a Long Winter's Nap? Not so fast....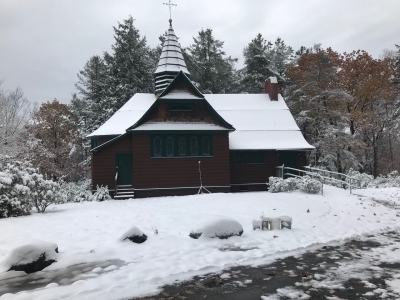 This fall, Ted and Wendy Pearre (Buildings & Grounds Committee) led groups of Dublin School Work Gangs over four weekends in cleaning up the grounds. Many truck loads of leaves and an unusual crop of acorns were hauled away by Dublin School's Director of Buildings and Grounds, Andy Hungerford. The Pearres have a real knack of working with young people as both are former educators and Heads of Schools.

While students were raking and sweeping, Ted did a walk-about to check the exteriors of the two buildings with an eye for the upcoming winter's toll that would be endured. Looking up at the church's roof, the cedar shakes showed noticeable wear and tear along the ridgeline (see photo). Shakes were missing and nails appeared to have come loose. Ted consulted with Bill Raymond and former Buildings and Grounds Chair, Phil Miner. The decision was to bring in four roofing companies to get a closer look along with a estimate on cost.
Results from all four companies stated the church roof needed complete replacement no later than 2022. Many shakes were loose and/or broken. The Managing Committee met on December 3rd, via Zoom, to discuss the options presented by Ted. The final decision was to have the ridgeline repairs completed as quickly as possible. This will safeguard the roof from this coming winter and will "buy" us some time before we re-roof in 2022. It was a unanimous vote of the Managing Committee to spend up to $12,000 on the immediate repairs of the roofline, leaving a cushion for other issues that may need attention. Fortunately, we have funds in a money-market account to cover this expense.
Over the course of the winter, Ted and others will begin to research options for full roof replacement and the costs involved. The late-winter meeting of the Managing Committee will feature a proposal along with a variety of funding options. Updates will follow through this newsletter.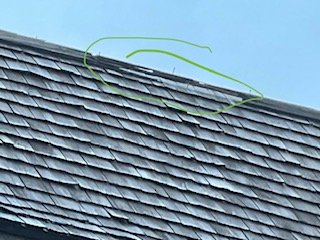 ---
Tags: Learn