The Branson's Arrive in Dublin for August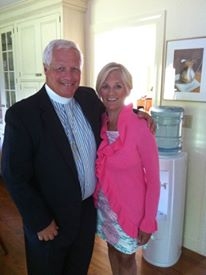 John Branson in residence for the month of August and first week in September.
Once again, John H. Branson, returns to Emmanuel to serve as August/September priest-in-charge.John and Judyth, now residing outside of Chapel Hill, North Carolina, bring many years of experience in the Episcopal Church.Originally from Concord, John was reared in the Episcopal Church, attended St. Paul's School, was ordained a Deacon at St. Paul's in Concord before spending his ministry in parishes in the Diocese of Newark and the Episcopal Church in Connecticut.
Retiring from active parish ministry in 2012, John has since served four large Episcopal Churches as Interim; in the Diocese of Chicago, the Diocese of Virginia, the Diocese of Connecticut and the Diocese of North Carolina.John has just finished his most recent stint as Interim at the Chapel of the Cross in Chapel Hill, North Carolina.Like the rest of the Church learning to pivot towards "on-line and virtual" worship, bible study, spiritual formation, and pastoral ministry, John admits to being a "newbie" in such endeavors, but ever willing to learn new ways of the Spirit sustaining the church in the 21st century. John and Judyth are pleased to be back in Dublin.
---
Tags: Leadership