Sermons from Emmanuel: July 23, 2023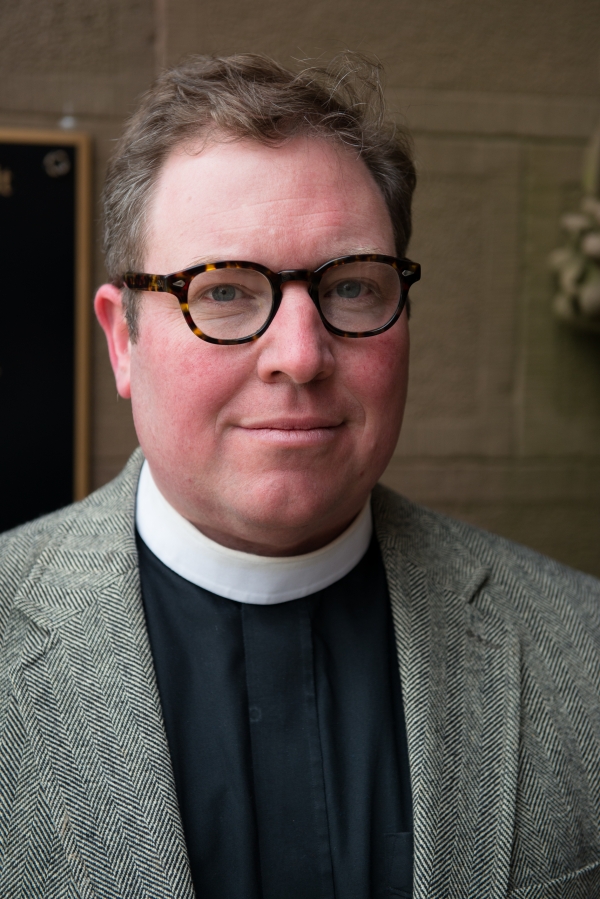 Sermons from Emmanuel Church, Dublin, New Hampshire: Sunday, July 23, 2023
Proper 11, Year A (RCL): The Very Rev. Gideon L. K. Pollach
Weeds in the Wheat
"How awesome is this place! This is none other than House of God and this is the gate of heaven!" (Gen. 28.10)
I want to take as my first text inspiration this amazing quote from the book of Genesis. I was going to describe the context of this, but we are lucky enough to have a former student of mine, Sophie Singleterry, here in the congregation - so I will am just going to let you remind us where this comes from. Take it away, Sophie.
I am just kidding. Sophie is a former student of mine from the Episcopal High School who happens to be here this Sunday. It is wonderful eat to see you Sophie.
So I will tell you. This quote comes from teh book of Genesis as Jacob flees his brother and his mother's home - leaving behind all he knew, all his past misdeeds, all of the conflict he had created with his brother in stealing both his brother's birthright and his father's blessing. After a long journey away from trouble and towards the unknown, Jacob rests in a wild place. A place where, in his fatigue, he finally finds blessed sleep. He has his head propped on a rock and in his sleep he has a vision. A vision of a ladder stretching from earth to heaven upon which angels of God ascend and descend.
In his wonder, delight, and amazement, Jacob declares: "How awesome is this place! This is none other than the House of God. This is the gate of heaven!"
Now, I wonder if you have ever had a religious experience like this. An experience when, after travel to a remote or distant place, or, perhaps after great exertion of effort, or through a deliberate period of fasting, prayer or preparation, or, perhaps, in the midst of great trouble, you have enjoyed the great benefit of the revelation of God's nearer presence?
This is the experience that Jacob enjoys in this great story. It is the sudden onset of revelation that God is nearer to Jacob than he had ever thought. The revelation that heaven and earth are not separate and distinct, but connected. A revelation that earth is filled with God's glory, or as the poet Gerard Manley Hopkins observes: "The world is charged with the grandeur of God." (Hopkins, "God's Grandeur")
These kinds of revelations often occur in what celtic mystics called "thin places." Places where the barrier between heaven and earth is especially porous. Over millennia these places have been found on the tops of mountains. They have been marked by great cathedrals or ancient churches and monasteries. But thin places are often found in hospital beds, in jail cells, or in foxholes. They are places and times that our connection to God in this world and in this life are revealed.
Jacob, I think, can be forgiven for thinking that these places are few in number - maybe even unique. But, the truth is, the whole creation is a thin place. Because the space between heaven and earth is always pourous. We are always more connected to God than we can imagine. What differs is our awareness of the fact that heaven and earth are interconnected. And here I turn again to Richard Rohr who wrote: " I have never been separate from God, nor can I be, except in my own mind."
Some years ago, I led a retreat in which I invited participants into a specific kind of purposeful life review. Life review is, as the name suggests, a purposeful act of history and meaning making of our own lives.
In this particular instance, I invited the participants into a moment of prayer - an extended moment of silent prayer that included an invitation to courage. I invited god's presence into the room as we were about to do something challenging.
Then, I invited participants to take a very large sheet of 11 x 17 inch paper - longer than it is wide and then turn it sideways so that it was wider than long. Then I invited them to carefully fold it in half three times so that they were left with six or eight equally wide columns. Then, using those columns I asked them to divide the page vertically into three rows. Using the 8 columns, I invited them to divide their life into either decades or 5 year periods, depending on how much of life you have lived and how old they were - so that each column represented a period of their life - each column an equal amount of time, and then label it with the years: 1-10, 10 -20, 20,-30, you get the idea. For younger people, it might be smaller periods of time.
Now having set up the paper, I asked them to write into each column important events that happened in those periods of time - things that they remember that shaped their understanding of who they were. Start with events whose dates you can easily remember - like major birthdays. Major life events like high school graduation or college graduation. Big moves, like to new cities or to a new country. Dates they met spouses and dates they got married. Dates when they had kids. Now put in important life events like great milestone birthdays or big life transitions like landing a new job or retiring. Great trips or vacations. Milestones of which they were most proud. Things about you were most proud - all illustrating their life.
Then I invited participants to mark on their life review sad dates like days that relationships ended, or they lost beloved pets, or parents passed away. Days of loss and grief. Lost jobs. Health scares - put all of it on the sheet of paper so that this life review was a complete and accurate picture.
Then I invited them to imagine a graph along the bottom where they might plot in the bottom section when and how they felt close to God. Moments of divine presence - moments of divine absence. Moments when God's love was acutely revealed. Moments when divine love was notably absent. When they felt closest to God and moments that you felt most distant - I invited them to mark them on the map - like a scatter graph along the bottom where the x-axis was time and the y-axis was the closeness to God. Then I invited them to draw lines between the dots that represented their closeness or distance from God so that it resembled a graph. Then take a step back and look at how over the course of their life, they can see where God was in those moments.
Then, I invited them all to label, date, and sign their life review.
Finally, if they had the courage to do so - I invited them to share something of what they discovered with someone else in the room - someone with whom they felt close or had some degree of trust. Not everything - not the whole life map, just an observation but just something they learned from the exercise.
Not everyone shared, which was ok. But as we looked around the room, we saw on each other's faces that there was a very high degree of vulnerability displayed on people's faces. All of the joy and grief of their lives was somehow present in this space.
When all was said and done, we prayed together again. Thanking God for the great opportunity to share this moment Thanking God for God's presence in our lives. For all the gifts of our life, all its blessings. And we thanked god for all the difficulties of our lives. The ways in which our lives had been shaped by resilience, and strength, courage and dignity - joy and pain - all of it.
When we looked over these beautiful and tender life reviews- many of us stood in awe, like Jacob, with the sudden revelation that surely, God was in our lives - and sometimes we did not know it. In fact, our lives were suffused with holiness and grace, as well as joy and grief. Some of us saw in our lives patterns where God was most present in times of joy. Some of us saw patterns where God was most present in times of struggle. Sometimes there were periods of great intimacy with God in our early childhood or our later adulthood. When we were having children. Or raising children. Sometimes there were huge long stretches of doubt and despair, but whatever was true, it was our life - holy and precious. Wild and beautiful. Weeds and wheat.
Now, you must have guessed that was only a matter of time until I came around to this parable, didn't you?
This parable of the weeds and the wheat is just such an honest reflection on life and experience. It tells the story of a landowner who tries to sow good seeds in his field, but he finds, as the seeds grow, that in this field where they had labored so mightily, there were weeds within the wheat. His intentions had been thwarted.
Weeds in the wheat.
When we are honest with ourselves, we might admit that all of life is weeds in wheat. Sometimes it feels like wheat in weeds - fewer intended benefits and more unintended consequences - but hopefully, there is, in fact, some wheat among the weeds; even better, hopefully, there are only a few weeds in our wheat. But, when we are honest, we will admit that our lives are all weeds and wheat.
All of it. No domain of life is free of this, whether you are thinking about your career, which you intended to be good. Or, raising children, which you intended to have a good outcome, or trying new things, learning new sports, learning new languages - it's all good and bad. Weeds and Wheat. No domain of life is free of weeds in wheat.
Our friendships are not pure - some of our friends are wheat, and some are weeds. Our families are not perfect - there are weeds in our wheat. Our children, as beautiful and holy and precious as they might be - are weeds and wheat. Not mine. But some are weeds and wheat.
No matter where you look in your life review, or in the deep landscape of your soul, or your friendships, or relationships - all of life is weeds and wheat - and still- the Lord is there somewhere. And sometimes you didn't know it.
And the parable tells us that we cannot separate the weeds from the wheat of our lives, for in trying to do so we would uproot both weeds and wheat. In trying to fix one thing, we would damage another - this is so true. It also true that there are times - long stretches of time - when we cannot even distinguish what are weeds, and what are wheat. Only time and patience reveals that.
But, God in Jesus declares - in God's time, our whole lives will be redeemed. The wheat and the weeds will be separated by the loving gardener of our souls: the Christ who came to love us into health, to nourish with his grace to redeem us by his love - that God will gather all of it in. All that is good and holy and beautiful and bring it in. All that is less so comes in too. And some of it will be saved, and the rest of it will be redeemed.
Or as St. Paul, so beautifully writes:
The sufferings of this present time are not worth comparing with the glory about to be revealed to us. For the creation waits with eager longing for the revealing of the children of God… We know that the whole creation has been groaning in labor pains until now; and not only the creation, but we ourselves, who have the first fruits of the Spirit, groan inwardly while we wait for adoption." As we wait for redemption.
So then, what if aloof our life is weeds in wheat what matters? When all of life is weeds and wheat and not always subject to our control?
When life is chaotic, vulnerable, uncertain and confusion - all we can depend is God and our own intention. Our intention to sew good seeds. Our intention to love each other well. Our intention to be good, to do good, to be holy. If that is true, no matter the imperfections, or the unforeseen, or the unhealthy or unintended outcomes, no matter the weeds within our wheat, we can still recognize the extraordinary beauty and holiness of the lives we have actually lived. Not just the ones we had intended or hoped for.
There may be weeds in our wheat, or maybe there is wheat within in our weeds, but still, the Lord is in this life. But still, the Lord is in this place - and we did not know it. We cannot be separated from the love of God, nor can we be, except in our own minds.
Let anyone with ears to hear listen. Amen
---
Tags: latest