Looking Back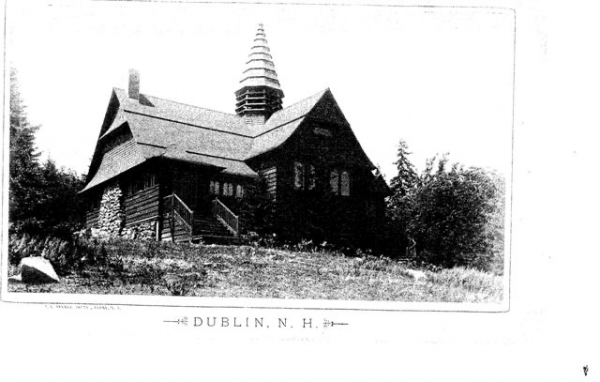 The history of Dublin tells the story of the founding of Emmanuel. The Rev. Kidner had conducted Episcopal services in the Town Hall for several years. he was surprised to get a letter from Miss Mary Green saying that she and her sister would give $2000 towards the building of a Church in memory of their sister, Mrs. Casper Crowninshield, who had died in Dublin. The Rev. Kidner reported "that some of them thought that a church was not needed, the Town Hall serving their needs pretty well but there was nothing to do but build. Before they knew it, they had $4000 to hand."
The building of the Church proceeded with Dr. Hamilton Osgood and Raphael Pumpelly serving as Trustees and as the building committee. Mr. Robert Andrews from the Boston firm of Andrews and Jacques prepared the plans for the church and donated his services. The building was consecrated by Bishop William Woodruff Niles of New Hampshire on August 3, 1888.
Three chancel windows to the left and right of the altar were designed by Mr. Frederic Crowninshield (1845-1918) a teacher of the Boston Museum School. At the bottom of the windows is the verse of a hymn that reads "angels of Jesus, angels of light, singing to welcome the pilgrims of the night." On the left of the church are a group of Tiffany windows which center our attention on the beauty of God's creation. These windows were given in memory of Georgiana and William Parsons and William Bedford, Elizbeth Coxe and Rebecca Royall. The three central windows on the right of the church were given by Mr. Graham Blaine to commemorate those who died in World War II and are known as the "War Memorial." Flanking them are two windows which may be Tiffany windows. The central triptych over the altar, the "Henderson Memorial," is the most recent window, dated 1973.
The organ, acquired through the Organ Clearing House, is a John G. Marklove Tracker organ made around 1883. It had been used for years in a Methodist Church in West Winfield, New York. The organ was acquired by Dublin church in 1967 at a cost of $3000 - only $1000 less than the cost of the church in 1888.
The church rectory, summer home of the minister, was built in 1889 and was also designed by Robert Andrews.
Roster of Summer Priests